The Nationals signed Stephen Strasburg to a seven-year, $175 million contract extensionMonday, bolstering one of baseball's deepest and best rotations into the next decade and also raising eyebrows across the baseball world on a deal few expected, and even fewer expected to happen now.
Strasburg's megadeal carries many implications for the big right-hander, his team, the league, and maybe even the future of free agency. Here are 10 angles worth considering: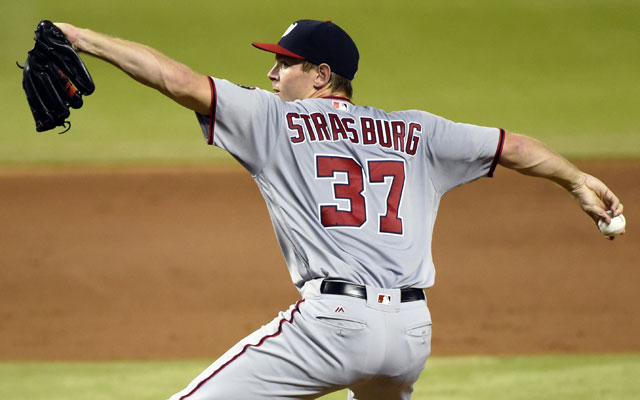 1. The sheer magnitude of the deal
Strasburg's deal is the sixth-largest in baseball history and among current pitchers, tied withFelix Hernandez for both total dollars and that $25 million per season number. (Strasburg can add another $7 million via innings pitched-based incentives, though the deal will also feature an as-yet unreported amount of deferred money, which lowers its present value.)
Premium players typically don't become free agents for the first time until their late-20s, and in some cases hit the open market in their early-30s. Strasburg will be 28 when the first year of his deal kicks in for 2017; by comparison, Zack Greinke was 32 when theDiamondbacks threw a six-year, $206.5 million pact at him. If Strasburg pitches well over the next three seasons, a Greinke-like early-30s bonanza could await, given the Nats granted their guy opt-out opportunities after year three or year four of the contract.
2. Strasburg's numbers back it up
Some pitchers will ring up a season or two of impressive ERAs, but without the underlying peripheral numbers such as a gaudy strikeout rate and a tiny walk rate to back it up. This has never been a problem for Strasburg. Since the start of the 2012 season, Strasburg ranks a strong 20th among starting pitchers in ERA. But that figure surges to fifth in strikeout rate, where Strasburg trails only whiff fiends Yu Darvish, Jose Fernandez, Clayton Kershaw, and his teammate Max Scherzer.
3. Boras cutting out the middle man?
Even at a prime age, and with the kind of terrific credentials that a number-one overall pick and major league All-Star offers, $175 million is still a lot of money. And the ramifications here are widespread.
Consider the relationship that Scott Boras has with the Nats' owners, the Lerner family. With general managers becoming more and more attuned to analytics, and the perils of long-term deals (especially for pitchers), Boras has taken to bypassing baseball ops departments to sweet-talk owners instead. The family patriarch Ted Lerner is 89 years old … and Washington, D.C. last celebrated a World Series title the year before he was born. Once you start getting into factors such as those, cold, hard data seem less important than the pull of history.
4. The Nationals have eight other Boras clients on the roster
Once an ownership group gains a comfort level with Boras Corp., it's not unusual for more of his clients to find their way onto the team. The Nats have not one, not two, not three, but eight Boras clients not named Strasburg on the roster. Granted, some of those players, likeStephen Drew and Oliver Perez, are lightly-paid, minor characters. But Bryce Harper also happens to be a Boras client.
Now, it's almost impossible to imagine Boras advising Harper to do anything other than test the open market after the 2018 season. Even after the Lerners lavished nearly $400 million on Scherzer and Strasburg, Harper's combination of supernatural skill and youth (he'll turn 26 during the 2018 playoffs) mean he'll likely earn $400 million or more by himself if he keeps performing at this level. But if the bidding does hit the open market and Harper gets to decide between, say, the Nats, the Yankees, and the Dodgers, it's always possible that the last little tiebreaker comes down to Boras's cozy relationship with the Nats' owners, and a deal getting struck to keep him in town for a decade.
5. The 2016 free agent pitching class stinks
The Strasburg signing cements the 2016 class of pitchers as one of the worst in four decades of free agency. The biggest names are James Shields and Scott Kazmir (who can exercise opt-outs in their contracts, though neither looks all that appealing on a big deal right now); still youngish but terribly erratic right-handers Jeremy Hellickson and Andrew Cashner; the reborn but tough to predict 36-year-old lefty Rich Hill; ancient knuckleballerR.A. Dickey; or Mat Latos just a year removed from being unrosterable. Yikes.
6. Except for possibly a pitcher from Japan
The wild card here could be Shohei Otani. Just 21 years old, Otani is a tantalizing talent, a dominating right-handed pitcher who's thrown the fastest pitch by any Japanese pitcher ever (101 mph) and also a skilled hitter who can handle a regular role in the outfield. If the Hokkaido Nippon-Ham Fighters were to post him for bidding by major league teams, the resulting feeding frenzy would be insane.
7. The Tommy John risk
Back to Strasburg, the biggest question mark becomes health. He's already undergone Tommy John surgery once. And as Jeff Passan wrote in his excellent book, "The Arm," the surgery's fairly high initial success rate hasn't stopped multiple pitchers (including book protagonist Daniel Hudson) from needing two UCL replacement surgeries … and we could be on the cusp of seeing three-timers become a logical next step.
8. The risks of throwing hard
One of Strasburg's greatest assets is his terrific fastball velocity. He broke into the league averaging a 99-mph fastball, and still checks in around 96, making him one of the hardest-throwing starting pitchers on the planet. But as biomechanics expert Dr. Glenn Fleisigexplained at length when we talked last spring, the harder a pitcher throws, the more likely he is to go under the knife. Contrary to what we've long been told, the strain put on a pitcher's elbow by a blazing fastball is actually more harmful than any wicked curve or slider a pitcher can possibly snap off. This could be bad news for Strasburg, and the Nats, down the road.
9. The Elvis Andrus factor
All of which brings us to Strasburg's decision to re-sign with the Nationals, rather than test the open market in a free-agent market that looks so weak, he would have stood out as an absolute giant by comparison. We have very few examples of Boras advising top clients to re-sign instead of seeing what's out there in free agency. One prominent case stands out as an example of what can happen when that does occur.
Just as the 2013 season was about to start, the Rangers handed Elvis Andrus a shocking eight-year, $120 million extension. Andrus had a lot going for him at that point. He was a two-time All-Star, a slick-fielding, fast, durable player at an incredibly demanding position. Already a very good player, he stood ready to become a potential superstar if he could ratchet up his offense. At just 24 years old, it was reasonable to expect improvement in the years ahead. That improvement never happened. In fact, Andrus's offense immediately cratered, and he posted park-adjusted offensive numbers 22, 22, and 23 percent worse than league average over the next three seasons (per wRC+). Worse still, Andrus had received a Ryan Howard deal, meaning it would take two years from the time he signed his contract until it kicked in, such that 2015 was actually the first of those eight years. (Andrus has looked a little better to start this season, but it's still a small sample size, and he hasn't exactly turned into peak A-Rod anyway.)
Now, neither Boras nor anyone else could have predicted with any certainty that Andrus might've already played his best baseball when he signed the deal, two years before it actually took effect. But it was always possible that Andrus's bat wasn't going to come around, and both player and agent have to feel great about the $120 million that'll flow in, regardless of what happens from there. The same risk/reward calculus could have been at work on Strasburg. It's possible he might've made a few more bucks on the open market had he waited until the end of the season. And yes, there might be some hidden Harper-related benefit to keeping Strasburg in D.C. But Occam's Razor also tells us that a one-time Tommy John patient with a blistering fastball is a significant risk for another major injury at some point down the road. The Nats had better hope that the end result isn't Elvis the Second.
10. The Nationals are stacked
Those are all considerations for the future. In the here and now, the Nats can say this: Their rotation is absolutely stacked, and it's likely to stay that way for a while. Scherzer is one of the best pitchers in the game. Joe Ross looks terrific in his first full major league season.Gio Gonzalez finally figured out how to stop handing out walks, and he has a 2.15 ERA to show for it. Tanner Roark's pitching out of his mind. And while top prospect Lucas Giolito has dealt with command issues in the minors, he could be a future star too.
With Strasburg now in tow at least through 2019 (and maybe 2023), Washington now has the kind of starting pitching that should be the envy of every other team … except the NL East rival Mets, who figure to wage some hellacious battles with the Nats for pitching and divisional supremacy for the next few years. All factors considered, we might revisit the Strasburg deal near the end of this decade and still not know for sure if it was the right call.
Story provided by Jonah Keri